The Great McKinney Story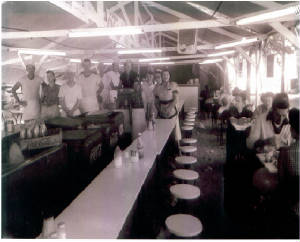 McKinney's Food Service was founded in the 1920's by D.J. McKinney. The Business started basically as a cookhouse operation; fully equipped with waitresses, Coca-Cola ice chests and warm smiles. However, the business couldn't bear to be contained to a small Texas town, and soon began to travel throughout the Midwest and South Central states in an effort to bring the famous corn dogs and chicken to many. The chicken was great, but the corn dogs are what the business has come to be built around, with a custom mix and frank, McKinney Food Services boasts one of the few custom corn dog recipes to this day.
A few years later, Bill McKinney, the son of D.J., picked up the business. Under Bill's leadership, the custom corn dog mix and franks were perfected and finalized, and the business really began to prosper and expand. Under Bill, the McKinney name continued to appear at many different fairs and events throughout the Midwest. Currently the business is approaching 50 years at locations Carlinville and Griggsville, Illinois, and has put in over 75 years at the Missouri State Fair in Sedalia, Missouri. Above is a picture of the cookhouse set up by D.J. as he traveled.
After Bill, his four sons: Adam, Tim, Shawn, and Ron, joined in with him, along with his nephew Billy Fickling. In the picture on the left, you can see three of them, Ron on the far left, twin brother Shawn next to him, and then Tim on the far right working the snow cones booth in Griggsville, Illinois in 1974.
Now, our business is a strong brotherhood of family men taking the treats of Texas all over the midwest and south central United States. With six independent families taking part in the "extended" family business, you can see that McKinney's has a record of excellence, because business has been good enough to permit it.